Laura Bonanni, BS, CYT, E-RYT 200 is the owner and founder of Fitness Yoga Studios. After working in the Information Technology field for several years, Laura began a second career in 1997 as a Group Fitness Instructor and Personal Trainer, discovering yoga while on this path. She has been regularly practicing yoga since 2001 and teaching yoga since 2002. Laura believes that each person's time on the yoga mat is an opportunity for self-discovery and personal growth. And with consistent practice, all of us can reach our full potential, finding self acceptance and peace within ourselves, and ultimately making the world a better place to be.
As a believer that yoga is truly for everybody, Laura has shared yoga with children, senior citizens, and all ages and abilities in between.  Laura is especially interested in educating athletes about how yoga can benefit them, and has developed and taught classes specifically for athletes, including:  Yoga for Runners, Yoga for Cyclists, Yoga for Golfers, and Yoga for Triathletes. She has also brought yoga to young athletes in the sports of lacrosse, soccer, baseball, and cross country.
Laura completed 200 hours of vinyasa yoga training through YogaFit®, and met and studied under many wonderful teachers in this well-regarded program.  Laura has also studied with and has been influenced by other influential and inspiring vinyasa yoga teachers, including Baron Baptiste, Shiva Rea, and Seane Corn. More recently, Laura had the privilege to study with Joan White, learning and practicing Iyengar yoga.  In 2010, she completed instruction in Thai Yoga Bodywork with Michael "Mukti" Buck. She continues to study the art, philosophy, and science of yoga and looks forward to sharing it with you. Laura is registered as an Experienced Registered Yoga Teacher with YogaAlliance® and is currently pursuing her 500 hour certification.
In 2011, Laura created Fitness Yoga's 200-hour Vinyasa Yoga Teacher Training Program (registered with Yoga Alliance®), and is honored to be a teacher and mentor to many Vinyasa Flow Yoga Teachers, several of whom teach at Fitness Yoga as well as other area yoga studios, dance studios, and fitness facilities.
Laura also believes in helping others through volunteering her time and fundraising for a variety of organizations including: the American Cancer Society, the Food Bank of South Jersey, Living Beyond Breast Cancer, the Mullica Hill Women's Triathlon Club, Bring Change2Mind, and others. In her spare time, Laura enjoys running, riding her bicycle, reading, gardening, listening to music, cooking, and spending time with her family and friends.
---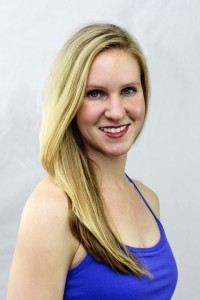 Katy Pringle, RYT200  started practicing yoga 5 years ago in college. A studio off campus offered a donation class 'Rock your Asana' every Thursday night. Learning yoga helped her find balance on the mat but also in the classroom. Developing body-awareness through yoga assisted Katy's understanding of  her Exercise Science courses. After graduating with her Bachelors degree, Katy decided to deepen her yoga studies and become a RYT. She completed her 200 hour Yoga Teacher Training at Fitness Yoga Studios in 2014. In addition to instructing classes in the studio, Katy teaches wheelchair yoga at the Veterans Memorial Home. Its never to late to begin exploring the benefits of yoga!
---
Denise Herman, RYT200
Denise began her yoga journey over 15 years ago in the fitness center of Rowan University. The Yoga "seed" was firmly planted, and inspired her to further her yoga experience. She wanted to learn all that she could about this amazing practice, and immersed herself in as many classes as possible. She began to see a major change in her overall physical, spiritual and mental well-being through years of dedicated practice. Denise soon realized the impact that yoga was having on her life and wanted to share this with others.
With the support and encouragement of family and friends, Denise decided it was finally time to take the next step. She completed her RYT200 teaching certification through Fitness Yoga studios in 2015. Going through the training program was such a rewarding experience, and has allowed Denise to deepen her practice. "Yoga guides me and inspires me. It makes me want to be a better person and encourages me to help others. I am thrilled beyond words to finally be teaching, and to be able to spread the joy and happiness of yoga to my students!" Denise encourages her students to challenge themselves, try new poses, and most of all to be lighthearted and have fun!
Denise is also a china painter and has been painting on Porcelain for over 15 years. She has her own line of Yoga ornaments and enjoys coming up with new and whimsical designs. You may find yourself to be an inspiration on one of her many creations.
When she's not in the studio or on her mat, Denise enjoys spending time with her family. She LOVES to bake, and also enjoys riding her bike, gardening, going out to eat and trying out new recipes.
---
After years of trying to find a health and wellness practice that clicked, Brandy Ciaccia, RYT200, began practicing yoga regularly in 2012. One teacher in particular drew her into the practice and it quickly became a way to not only move the body but heal the soul. After experiencing the amazing effects that yoga can have on the mind and body, Brandy knew she wanted to share the knowledge with others as well as deepen her own practice. She received her 200 hour teaching certification from Fitness Yoga Studios in May of 2015 and is a registered teacher with Yoga Alliance.
Off the mat, Brandy enjoys spending time with her husband and two children (sometimes practicing yoga together), music, reading, learning, and relaxing at the beach in Wildwood
---
Melissa Whitehouse, RYT200 started practicing yoga in 2010. She spent many years trying different exercise routines while moving around the country. Melissa got hooked on yoga after her first class and it steadily became a key part of her life. She began teaching a volunteer senior yoga program in 2014. In 2016, Melissa received her 200 hour yoga certification through Fitness Yoga and is a Registered Yoga Teacher (RYT) with Yoga Alliance. Her yoga philosophy is to make yoga a vital part of everyday life and connect on a physical and mental level. Melissa enjoys spending time with her husband Sean, their three sons Brendan, Kyle and Ryan, and their Boston Terrier, Sox the Dog. She teaches encouraging and fun-filled classes for all levels – always with with good music.
---
Jackie Ricketts, PT, RYT200, began practicing yoga over 10 years ago, initially seeking an exercise program that would be gentler to muscles and joints compared to other classes offered at the gym. She soon discovered many overall physical and psychological benefits of yoga including increased flexibility and strength, improved posture and balance, and a reduction of pain and stress.
Jackie was able to incorporate her love of yoga into her work as a school-based physical therapist, which further expanded her interest in yoga on a personal and professional level. Upon retirement in 2015, Jackie decided to pursue a "second career" by enrolling in the Yoga Teacher Training program at Fitness Yoga. She completed her 200 hour certification in April 2016 and is a Registered Yoga Teacher (RYT) with Yoga Alliance.
This has proven to be an exciting year of self-discovery and growth, providing a new avenue to reach out to and help others experience the physical, mental and spiritual benefits of yoga. Jackie considers herself a life-long learner, and is so grateful to have this opportunity to share her new-found experience with her students. Acknowledging that she has only explored the "tip of the iceberg" in this ever evolving field, she is eager to continue practicing yoga and learning from other instructors.
When she is not on her mat, Jackie enjoys spending time with her husband, children and grandchildren, taking long walks with her dog, bike riding, and traveling, especially to the beach.