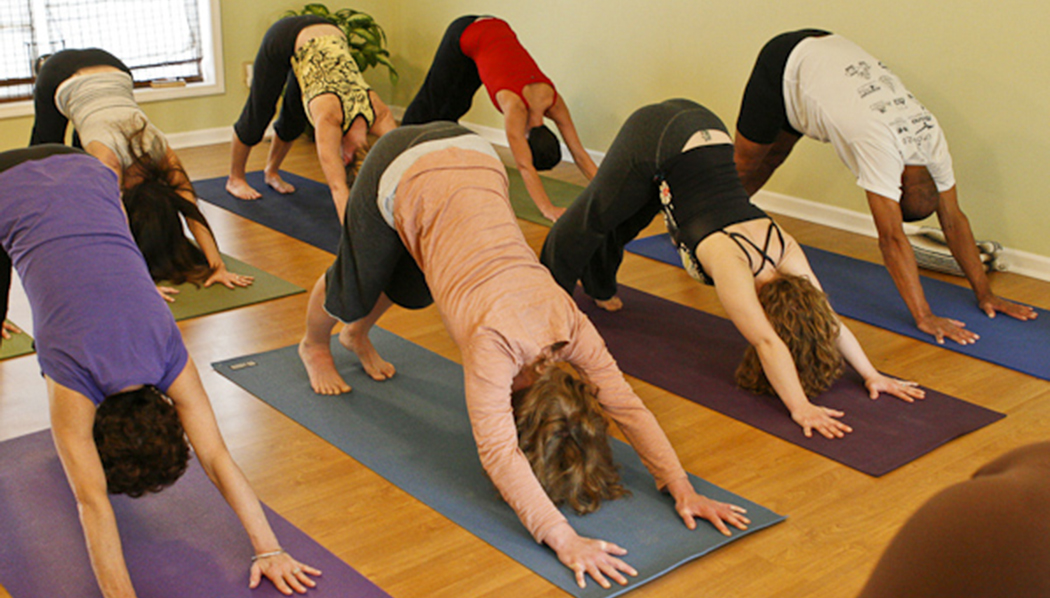 Namasté! Practicing yoga at Fitness Yoga Studios will nurture your mind, body, & spirit and enrich your quality of life. You'll reduce stress, improve your health, and get into the best shape of your life with Vinyasa Flow Yoga—Fitness Yoga style! We have been offering yoga to the South Jersey community since 2006. It is our belief that yoga is for every body, and that practicing yoga is ultimately a journey of self discovery. A variety of yoga classes are held every day of the week in our warm and welcoming studio—Beginner Vinyasa, Vinyasa Flow, Hot Vinyasa, Power Yoga, Gentle Yoga, and more. Our teachers offer you their unique interpretation of Vinyasa, so there is plenty of room for creativity and variety, and not a lot of room for boredom. See the Class Descriptions page for more information about our ongoing classes.
Whether you are brand new to yoga, have been practicing for years, or are somewhere in between, you will find a class that's just right for you. Our classes are open to everyone ages 13 and up. We offer various levels of instruction for beginners through intermediate/advanced. Private instruction is also available by appointment.
We also offer special classes throughout the year, including Kids Yoga, Family Yoga, Restorative Yoga, Meditation, Chakra Vinyasa, and many more.
About Vinyasa Yoga
Vinyasa Flow Yoga is a challenging, active style of yoga, based on the Ashtanga Yoga system pioneered by Sri Pattabhi Jois, and falls under the umbrella of "Hatha Yoga." The Vinyasa style emphasizes precise body alignment as well as moving through a series of postures or poses, linking each one with your breath. This union of movement and breath is extremely powerful, and can help bring you to another level of consciousness with continued practice. With this style of yoga, expect your strength, flexibility, and stamina to be challenged. Vinyasa Yoga is practiced in a warm to hot room. Please bring a small towel and water with you to class.
Beginners Start Here
Beginner Vinyasa meets Mondays from 6:00-7:00PM
Gentle Vinyasa meets Wednesdays from 6:00-7:15PM and Fridays 11:00AM-12:00PM
Yoga is for Every Body! Learn the foundations of yoga so you can begin to experience its transformational effects. Explore proper alignment and correct breathing while developing strength, flexibility, and balance in a supportive environment. Also great for those recovering from an injury.
Pay $15 to drop in or save with a class package. See a full list of rates on the Fees & Policies page.
See the Class Schedule page for any last minute schedule changes before attending a class.